I never thought about the importance of water until I started having digestive issues and started to feel tired all the time…
I remember when I brewed beer I would take grains like barley or wheat and the first thing that needed to be done was to digest the starch into sugar, proteins into amino acids, etc…
To start this digestive process I would start by adding water and minerals to grains… (here's a video where I talk about why you need water and minerals to produce energy)…
The biggest lesson from this was that without water and minerals I couldn't break down the starch into sugar… meaning that without water and minerals I couldn't digest food…
So I started looking at my diet and realized that the body works the same way when it comes to digestion… I needed water and minerals to digest food and then it dawned on me that I didn't drink enough water and much less cared if it had minerals…
Paying attention to water and minerals is what helped me get more energy, and when I started sharing this with others they too started to see a boost in their energy levels!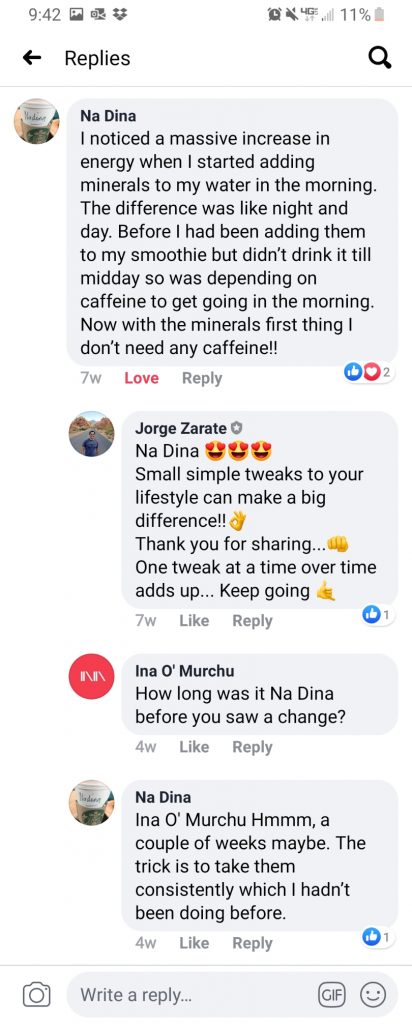 Here's what I found about how water and minerals help you get more energy…
Your body should be about 74% salt water…
If you feel tired all the time and feel like you have no energy, then chances are you may be dehydrated and probably closer to 68% salt water…
… and here's how that is affecting your energy levels…
#1 Water is one of the raw materials the body uses to produce energy…
#2 A salt water solution is the environment needed to produce energy… you can see this in batteries and the cells of your body…
Every cell of your body is like a battery… they produce and store energy…
A battery is meant to store energy… but what allows you to use that energy is minerals…
… more specifically, conductive minerals like the copper wire used in electronics…
These minerals are called "ionic" minerals which are conductive minerals that allow you to use energy…
If you don't have minerals, then even if your body produces energy, you won't be able to use it…
This is how I started to understand the importance of water and minerals in my diet…
Without water and minerals the body will struggle to digest food…
If you can't digest food, then your body won't be able to get the nutrients it needs to produce energy…
When you can't digest food well you get gas, bloating and constipation… but it can get worse…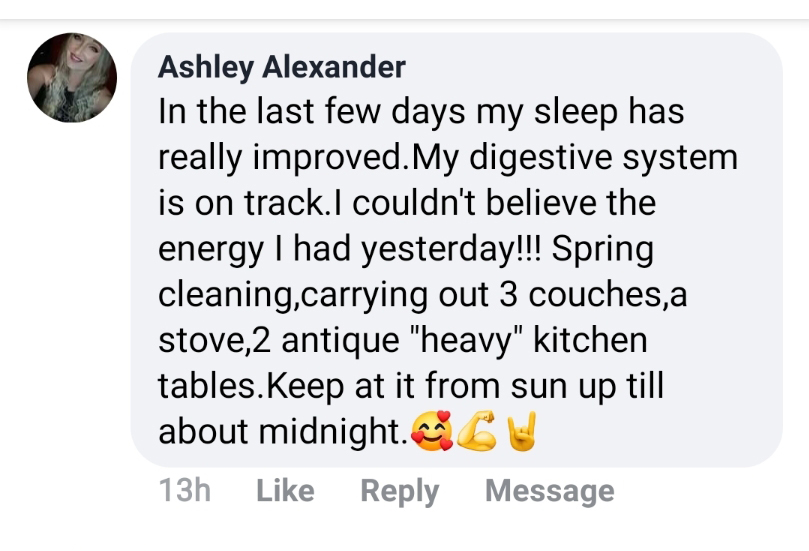 I had a hard time breaking down protein into amino acids…
Amino acids is what the body uses to produce hormones like serotonin, dopamine, melatonin (which are the feel good, happy and sleeping hormones)…
Because I wasn't digesting food properly, I wasn't getting these amino acids and my body wasn't producing hormones so I would have a hard time falling asleep and would toss and turn all night…
Back then I didn't understand that this was because my body wasn't getting the amino acids it needed to produce the sleeping hormone melatonin…
Even if I ate protein, my body wasn't breaking it down into amino acids… so I'd just get gas, bloated and constipated instead…
Amino acids are also used for hair, skin and nails…
… and my hair was falling out in clumps…
A lot of this started because I was dehydrated… and nobody thinks about water as a place to start to get more energy and improve digestion so you can sleep better and avoid your hair falling out…
I didn't drink enough water… and I didn't consider water an important piece of my diet because I didn't understand how it affected digestion…
… but then it all started to change when I realized that in order to produce energy I needed to grow probiotics in my gut… and just like brewing beer I started to pay attention to water as one of the most important ingredients…
Things just started to make sense to me…
I first started by making sure I was drinking enough water…
The book "Your Body's Many Cries for Water" by F Batmanghelidj, M.D., says that minimum we should be drinking at least 2 quarts (liters) of water a day…
So that was the first tweak I made to my diet… just started by adding more water…
Then as I started looking closer at water, I realized that there were more things I could do to improve my water…
As a beer brewer, I would look up the city water quality report to see if the water was treated because it would affect brewer's yeast which is a probiotic…
That's when I realized that probiotics live in our guts… these are the same probiotics that we use to make fermented foods and beverages like beer, wine, kombucha, sauerkraut, sourdough, etc.
…. and if I can't use water that's treated to brew beer because it affects brewer's yeast, then why would I drink that water myself when the same probiotics live in my gut…
It only made sense that I needed to drink clean water just like the type of water I would use to brew beer with…
That was the second tweak I made to my diet… improved the quality of water I was drinking…
I personally use a steam distiller by Aquanui (Steampure) to get clean water… (use coupon code "beerdietproject" to get a discount…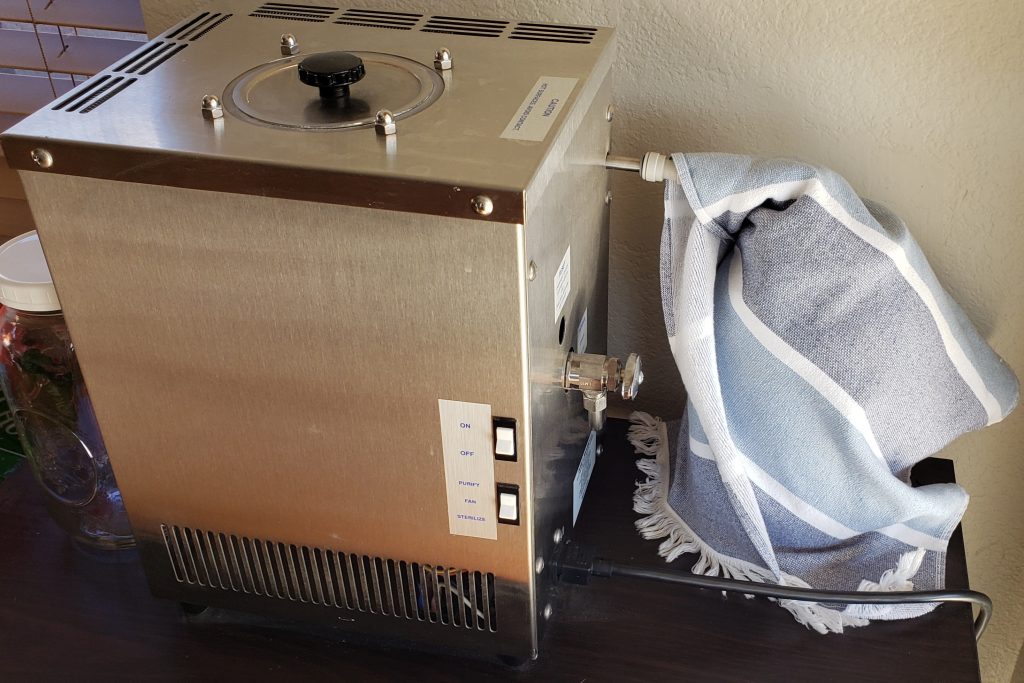 Although cleanliness of water is extremely important to me… if you are on a budget, there are many improvements you can make before you invest into a water machine, but I highly recommend a clean source of water…
Reverse osmosis is what I used starting out. There's no other filter or anything else I recommend, so if you can't start out with a water distiller it's okay… start saving and implement other things like minerals…
Do NOT drink distilled water from plastic jugs!
Clean water and minerals is the foundation to make everything else works…
Brewing beer taught me that I need water with minerals to kickstart the digestive process… without minerals, I can't digest barley starch into sugar… similarly in the body, without minerals, I can't digest food…
That's why I started to look for the minerals my body needed to be able to digest food…
To get all the minerals the body needs I used this recipe…
Mineralized hydrating water
To make sole salt, I take a mason jar and fill it up with pink Himalayan crystal salt stones and top it off with water…
The salt will dissolve into water until it saturates and you get a salt water solution… that's SOLE salt…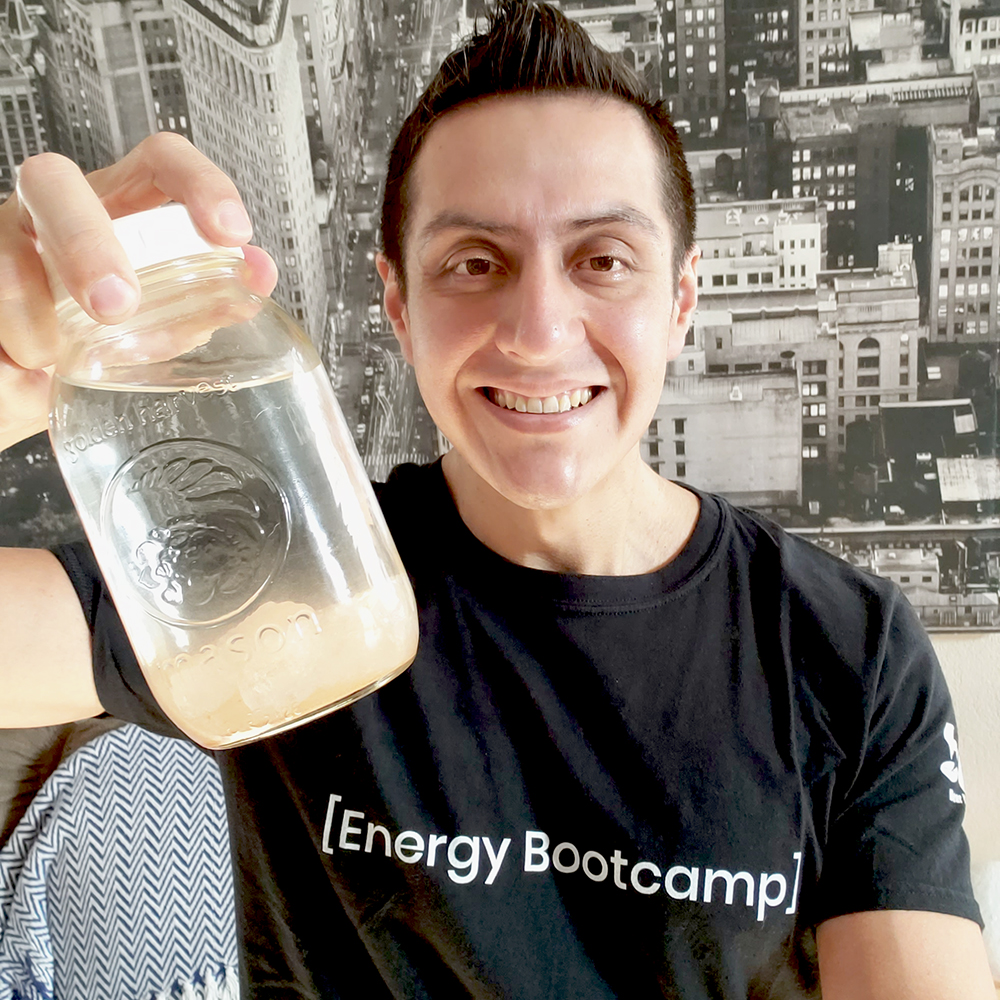 I then pour that salt water into a dropper and that's what I use to mineralize my water along with ionic magnesium…
Do not use ground pink Himalayan salt from the store… you don't know the source or how it was ground up… the grinders need to be replaced which means chipping happens and metals or stone debris ends up in the salt which ends up in you…
Only use large pink Himalayan salt crystals for this otherwise you are not following or understanding what Beer Diet Project is looking to teach you…
To recap… these are the 3 main tweaks I did to my water…
#1 Improve quantity
#2 Improve quality
#3 Mineralize
… but it doesn't stop there…
There's so much more to learn about hydration like how your diet affects you hydration levels…
For example, when I would brew beer I would start with roughly 10 gallons of water to soak around 9 lbs of barley… and I would lose about a third of the water to grain absorption and then realized that the body was no different…
If I ate a lot of "empty" carbs, they would dehydrate me and soak up water from my body which is one way you can become demineralized and dehydrated…
Water and hydration is so important for gut health that we'll continue to touch on the topic including advanced hydration strategies during [Energy Bootcamp], [Transformation Bootcamp], and [Microbiome Bootcamp]…
On the next lesson you'll learn how to do a 5 day hydration challenge to start getting more energy…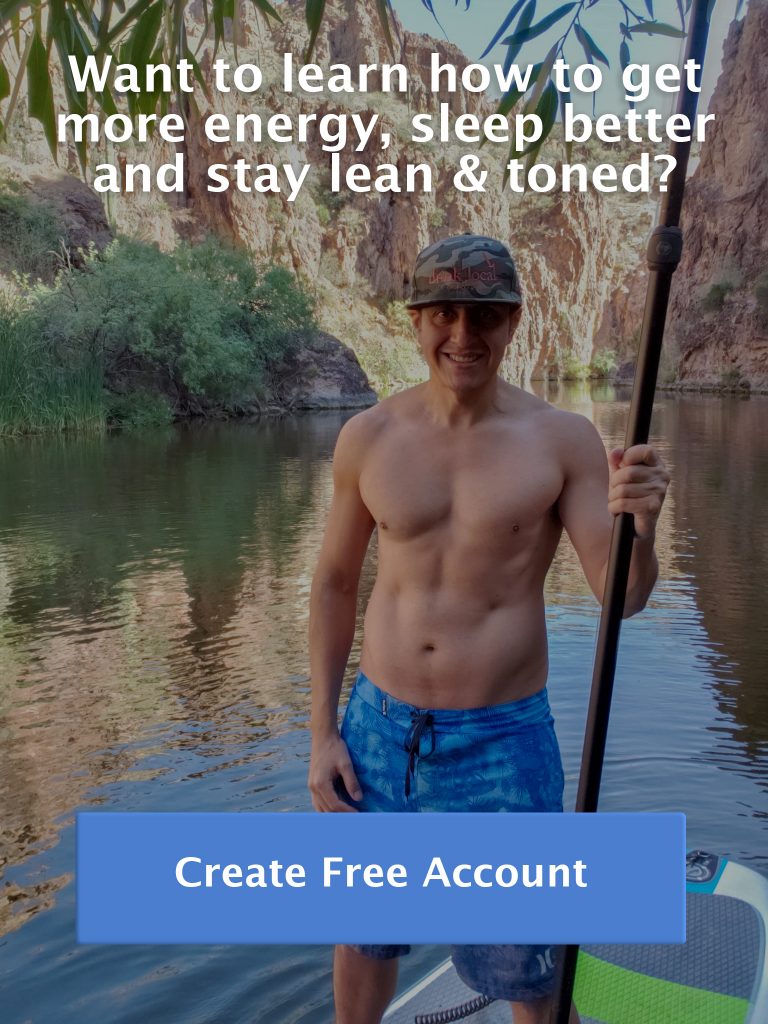 Already have an acccount? click here to log in…