Your body is 74% water…
The cells of your body are made of water…
Energy production requires water…
Water is the foundation to a healthy diet, yet very few people pay attention to the type of water they are drinking…
They'll spend hundreds on supplements to lose weight, improve digestion, etc., but they don't bother to look at the type of water they are drinking…
Beer Diet Project is about learning how to grow probiotics using the skills I learned from brewing beer…
The first lesson to learn is that just like you can't brew good beer with shitty water… You can't grow probiotics in your gut if you drink dirty water!!
Too basic?
I know, but later on you'll begin to see how I use this concept to determine if the food I'm eating is good… you'll begin to see how important it is to have clean water to detox… and most importantly, it will set the foundation to understand more advanced water principles when we start dealing with alkaline water, structured water, etc.
So the first thing you have to learn is to understand the importance of clean water and where to get it…
Phase one of this program is about input… what are you putting into your body?
… because ultimately what you are looking to do to improve gut health is to remove toxicity from the body… Clean up… to do so, you need clean water to begin with…
In phase 2 of the Beer Diet Project journey, we go over detoxing and fat loss… none of the strategies in phase 2 will work if you continue to drink dirty water…
So here are the top 3 sources of clean water…
Natural Spring Water
Nature provides… learning about gut health isn't just about you. It's about learning to take care of the resources you have at your disposal.
Getting water from a natural spring isn't just about taking. It's about what you can do to protect the spring to keep it from getting contaminated and keeping the source of water clean.
You can visit the Find A Spring website and look for natural springs near you not only so you can take gracefully, but also to help protect those resources so that you (and others) can enjoy clean water.
The advantage of finding a good source of spring water is that the water is clean and has minerals which are needed for proper hydration…
If you are not able to get to a source of spring water then this is where beer brewing skills come into play… brewing beer taught me how to make my own water… it starts with the base…
Clean water is pure H2O…
Tasteless
Odorless
Colorless
To get pure H2O water has to be distilled…
Distilled Water
How does nature clean water?
It evaporates it into steam, turns it into clouds then it condenses it back into distilled water which then precipitates as rain…
That is exactly how you make distilled water… you boil water into steam, trap the steam, let it condense and you collect the condensed water…
The most important thing to understand about distilled water is that it's "empty". There is nothing dissolved into it… it's H2O in the purest sense… That's both good and bad… it's good because it's about as clean as you can get water to be, when there is nothing dissolved into it. There is no chlorine, chloramines, fluoride, lead or whatever other toxic stuff tends to dissolve into water…
The bad thing about distilled water is that if it has nothing dissolved into it, then it has no minerals which are needed for proper hydration.
Think of distilled water as the base. It's a blank canvas. It's clean because it has nothing dissolved into it. You can take this water and do just about whatever you wish with it… add minerals, alkalize it, etc.
Warning… distilled water is very powerful cleaning water. When there is nothing dissolved into water, it makes water that much more potent and more likely for things to dissolve into it.
A common mistake people make when they start their Beer Diet Project journey is that they go get distilled water and they come back saying something like
"Hey, I started drinking distilled water, but I don't feel good"…
When I ask, "how are you making your distilled water?"…
They will usually say "I buy it from the store and then add the minerals"…
That's when I point out that if you buy distilled water from the store, you are buying distilled water in a plastic jug. That means that plastic residue is leaching into the water. They are essentially drinking plastic residue that was dissolved into their water and that's why they don't feel good…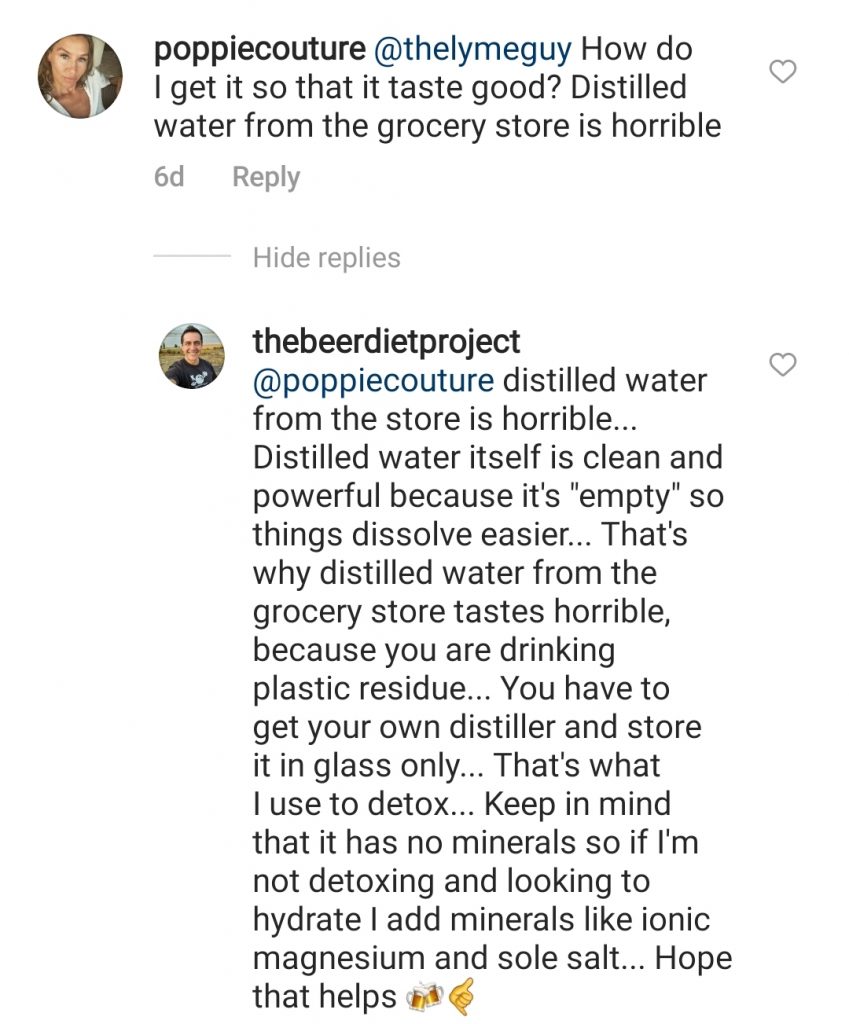 That's is one reason why I don't tell people what to do…
People think they understand what I understand, but they don't and so they do something that's not good thinking that they are doing what I do…
This is the case for water, minerals, vitamin D, nutrients, fasting and so many topics…
That's why I emphasize that I'm not a doctor and health is your responsibility…
I can only share what I do and educate… but you must be willing to study and not expect things to be given to you in a pill form where you have to do nothing…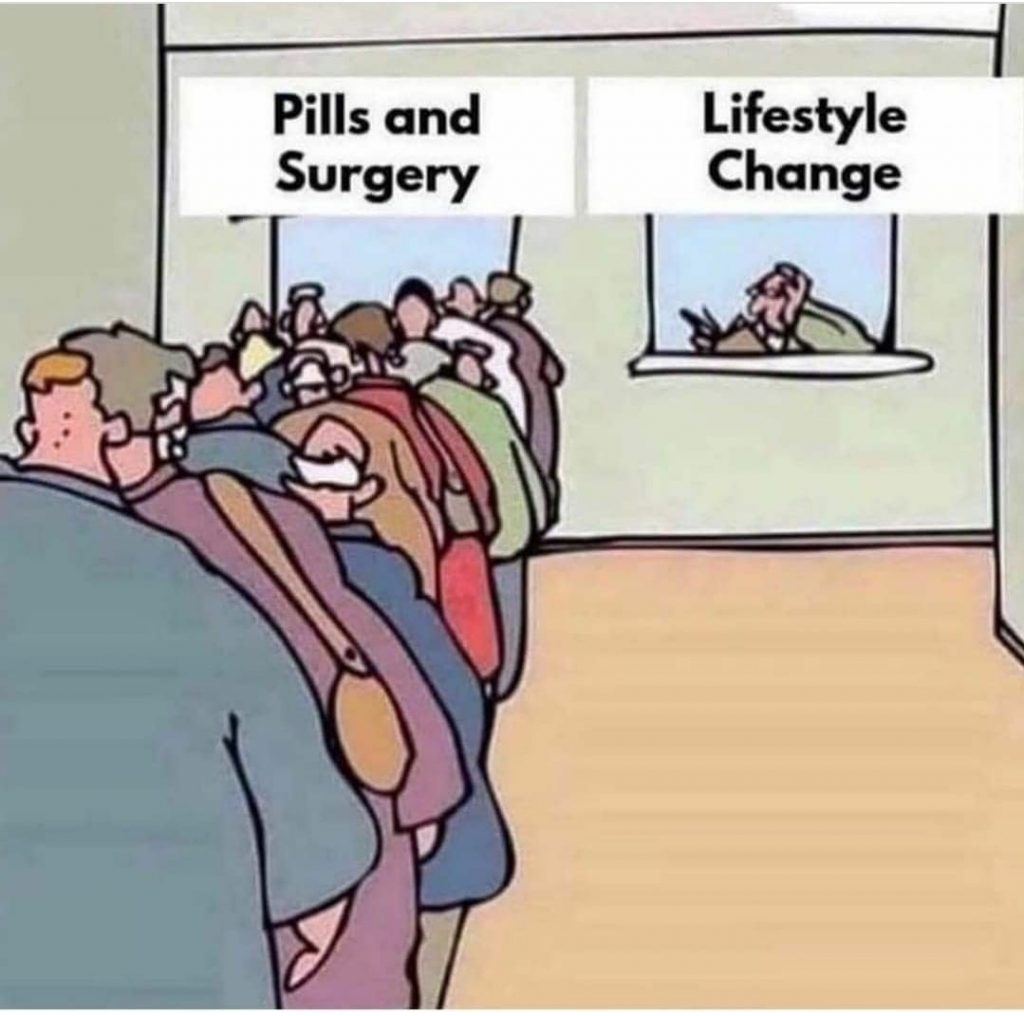 The point of this lesson is to help you understand the importance of clean water… you must now take responsibility to go source out clean water and verify that it is indeed clean…
This is the most basic human skill that should be taught in school… how to get clean water…
Making distilled water isn't a straightforward process… results vary depending on the type of water you are starting with and how much toxic waste there is in it to begin with…
To make distilled water I start out with reverse osmosis which is the second cleanest source of water besides distilled water…
Reverse Osmosis
People often ask me "I live in (insert city name)… is my water safe?"
My answer is that I don't know… I'm not a water chemistry expert, but probably not…
… as simple as pure water is if we are talking about pure H2O, water can become a very complex topic… is your water soft water, or is it hard water? are there gasses dissolved into it?
I've been studying water chemistry for years (for brewing purposes)… there's so much to learn, I can't possibly cover it all in this blog post and you won't learn everything in one sitting. You will learn a lot more about water as you move along the Beer Diet Project journey. I'm condensing the most important things you need to know so can move through the process faster.
Most cities publish a water quality report, but even if you know what's in it, they only test for a few things and there's a lot of things they don't test for… that's why I don't know if the filter you are using is the right filter and frankly it's not something I want to study…
There's already so many more things to learn about water like alkaline water and how to mineralize water…
All I know is that reverse osmosis is a pretty good way to clean water… does it get everything out? Probably not… but it's good enough. This is my personal lowest standard for clean water… When it comes to drinking clean water, I prefer…
#1 Spring water (must verify that it's not contaminated)
#2 Distilled water
#3 Reverse osmosis
That's it…
What about well water?
Again, I don't know… most well water sources are good sources like spring water, unless they are contaminated, which is why you must verify and test the water…
The lesson here is clean water is important. To make Beer Diet Project work, you need clean water…
To complete this step and unlock the next step comment below saying "clean water is important… distilled water in plastic jugs isn't clean"